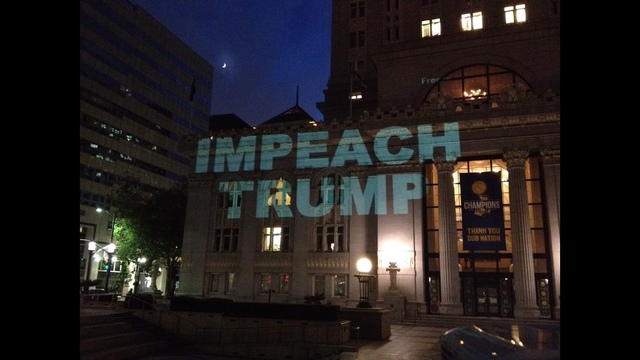 On Tuesday, June 27, Santa Cruz and Oakland, California City Councils joined 10 other communities officially calling on Congress to begin impeachment proceedings against President Donald Trump.
Both Santa Cruz City Council and Oakland City Council passed their resolutions unanimously, bringing the total of communities with passed resolutions up to 12. Other communities in California who have passed resolutions include Los Angeles, Richmond, Berkeley, and Alameda.
In Santa Cruz, resident Michelle Wilson spoke during public comments, saying she believes Trump is not the right kind of role model for the country. "We can't live with a president that's teaching us unjustice. We need justice, and we all need to come together as one."
In Oakland, supporters and volunteers shone the words "Impeach Trump" on City Hall.
For more coverage, visit KTVU and the Santa Cruz Sentinel.