On Saturday, June 15th, more than 13,000 Americans gathered at 142 events across the country, calling on Congress to begin an impeachment inquiry against President Trump. Free Speech For People was proud to partner with MoveOn and By the People for this historic event, the largest national mobilization for impeachment to date.
Free Speech for People President John Bonifaz addressed more than 100 people in Northampton's Pulaski Park, saying, "We refuse to be silent. We refuse to walk away. We will rise to demand that members of Congress carry out their Constitutional duty and start an impeachment inquiry of this President."
Rep. Jim McGovern of Massachusetts, who chairs the House Committee on Rules, also addressed the crowd in Northampton: "I've seen enough. I've seen the Mueller report, this administration is not complying with requests. If we turn a blind eye to him ignoring Congress, we set a terrible precedent."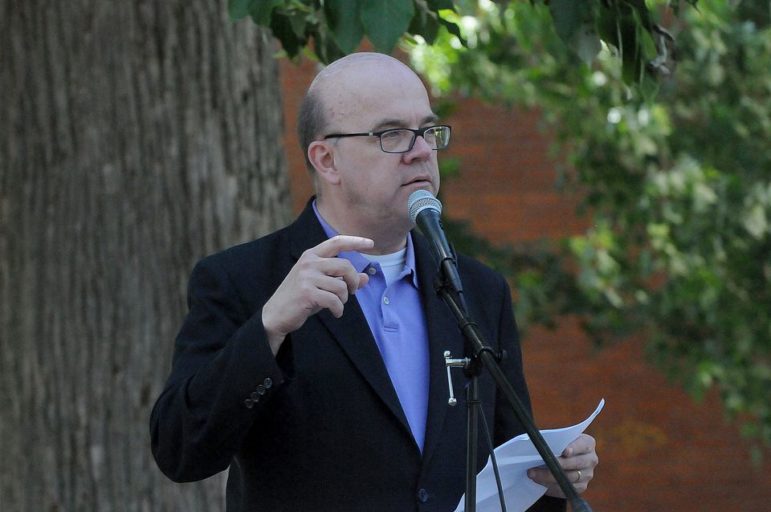 Meanwhile in Boston, Free Speech For People's Board Chair Ben Clements told protesters on the Common, "This is how autocracies take root. This is how democracies die…Our country cannot afford to wait. We will not sit idly by while a corrupt, lawless, racist, misogynist, homophobic, xenophobic, bigoted, unfit President tramples on our Constitution and our people."
Sixty-seven members of Congress have now voiced public support for an impeachment inquiry to date, and thirteen have become co-sponsors of a House resolution to start such an inquiry, introduced by Rep. Rashida Tlaib (D-MI) and Rep. Al Green (D-TX) in March. Many were in attendance at events around the country on Saturday, including Rep. Tlaib in Detroit, Rep. Green in Houston, Rep. Earl Blumenauer (D-OR) in Portland, Rep. Carolyn Maloney (D-NY) in New York City, and Rep. Madeleine Dean, Rep Mary Gay Scanlon, and Rep. Brendan Boyle in Philadelphia. A recent Reuters poll found that 45 percent of Americans support impeachment, compared to 42 percent opposed. The percentage in favor of impeachment is significantly higher than it was when Congress began an impeachment inquiry into Richard Nixon.
Free Speech For People has been a leader in the impeachment movement since January 2017, when we created the Impeach Donald Trump Now campaign with RootsAction. Following the release of our book in August 2018, The Constitution Demands It: The Case for the Impeachment of Donald Trump, we launched The Impeachment Project as a new resource for this movement. To read our grounds for impeachment, click here.
MoveOn and By the People will hold an organizing call on next steps for the impeachment movement on Tuesday, June 18th at 8:30 PM EST. To RSVP, visit www.impeachmentguide.com. Representatives Al Green, Jamie Raskin, and Rashida Tlaib will all be featured speakers on the call.