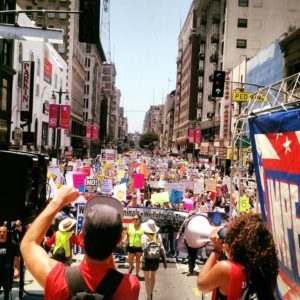 On Sunday, July 2, thousands of people took to the streets in dozens of cities across the country to show their support for calling on Congress to begin impeachment proceedings of President Donald Trump.
Joining protestors in Austin, TX and Los Angeles, CA, were Representatives Al Green and Brad Sherman.
In Austin, Representative Green addressed the crowd, saying "I am here today because I love this country. We cannot let others steal the notion that somehow they're more patriotic than we are. We are patriotic Americans."
In Los Angeles, Representative Sherman, who recently drafted an article of impeachment for review by fellow Congressmen, said "Every day, Democrats, Republicans, the entire world is shocked by the latest example of America's amateur president."
Read more on the marches by visiting NBC News, Slate, and Salon.